Welcome, Plano West Wolves!
---
There are many ways to get involved in our PTSA. We currently hold our regular membership meetings seven times during the academic year rotating morning, afternoon, and evening times. Please see the PTSA calendar for more information.
The interest form for the 2023-2024 PWSH PTSA Board
is now open! Please share your interest with us.
For a quick review of our Board Positions, please review the list at Board & Chairs
---
The Updated Bylaws and Standing Rules for Plano West Wolf Den PTSA
We are pleased to announce that the bylaws and standing rules of our PTSA have been updated and approved by the Texas PTA Board of Directors. These updates have been made with the goal of ensuring that our PTSA operates in an efficient and effective manner, while also ensuring compliance with all relevant laws and regulations.
To view the updated bylaws and standing rules, please click the link below. It is important for all members to review these updates to ensure that they are aware of any changes that may impact their participation in our PTSA.
Thank you for your continued support of the Plano West Senior High School-Wolf Den PTSA!
---
AfterProm will be held directly following Prom* at the Plano Pinstack on Sunday, April 16th from 12:15am until 4:00am. All seniors are invited, even if they are not going to Prom! The discounted, advanced ticket cost is $12 per person until 4/14/23 at 11:59pm with PTSA covering the rest! ($15 tickets at the door.) Seniors must scan the QR code as found on the AfterProm webpage to purchase tickets. They must use their Name and Student ID numbers as the "passcode". Please remind them to keep their tickets as an image on their phones for us to scan at the door.

The fun includes unlimited bowling, games, and pizza. Lots of prizes will be given out all night long including $500 Scholarships, Rocketbooks, Laptops, iPads, mini-Projectors, Nintendo Switches, headphones, Blendjets, Keurig machines, gift cards to restaurants and so much more. Seniors (MUST bring student ID) and one guest (student-age) can attend. Prize drawings are for seniors only. Must be present to win. No one admitted after 2:00am. No re-entrance once they leave. For more information on the After Prom, please visit the AfterProm webpage.
After Prom Volunteers Needed!!
AfterProm Volunteers are still needed in order to make this a fun, successful event! Come be a part of one of their last parties as a senior. Please sign-up for a shift or two at AfterProm VolunteersQuestions, please contact AfterProm@wolfdenptsa.org.
---
Plano West Senior Luncheon: Join Us on April 25th for Food, Fun, and Awards!
All Plano West seniors are invited to attend their Senior Luncheon in their honor on Tuesday, April 25th in the small gym during their normal lunch hours. The PTSA is providing lunch, drinks, and dessert. The PTSA will also draw "Membership Continuity Award" winners from the list of eligible seniors who have been PTSA members during both their junior and senior years at Plano West. Does your student (or friend) still need their PTSA membership for this year? If so, memberships can still be purchased. A "Class of 2023" yard sign will come free as a gift until the supply runs out. Purchase at Senior Student Membership.

Come help us with the Senior Luncheon!

Opportunities include decorations, set-up, serving food during both A & B Lunch Shifts, and clean-up. Please sign-up for a shift at Senior Luncheon. Questions, please contact SeniorLuncheon@wolfdenptsa.org.
---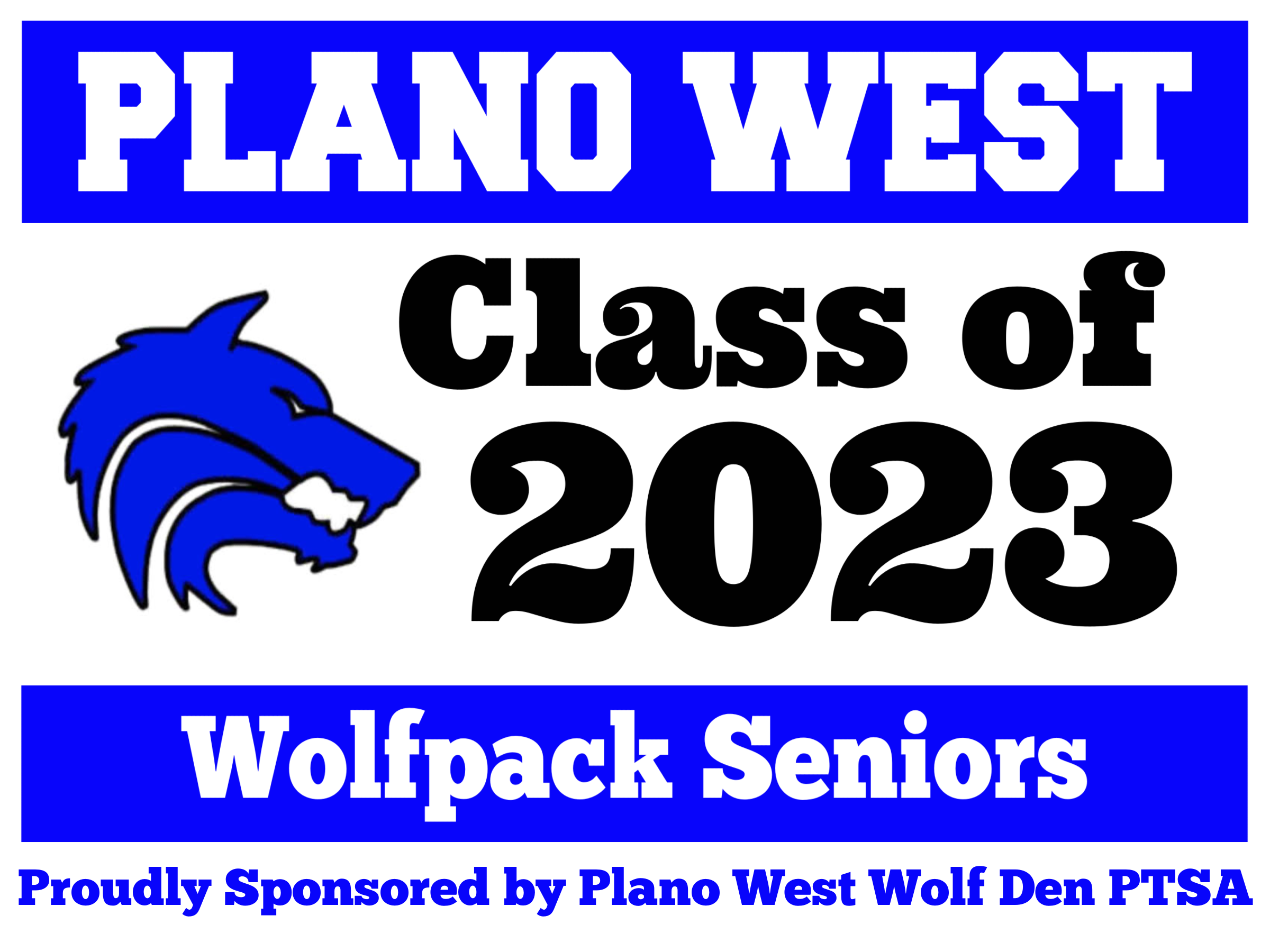 Want to celebrate your senior student with a "Class of 2023" Yard Sign?
The second semester of the school year means there is a countdown until graduation. June will be here before you know it! Want to celebrate your senior student?
All seniors that purchase and become a student member will be eligible to receive a FREE Plano West Class of 2023 Yard Sign to display in their yard (*while supplies last*).
To purchase, please visit: Senior Student Membership 2022-2023
How about giving the gift of a Senior Student Membership to a neighbor or friend? You can also gift them the "Class of 2023" yard sign (*while supplies last*).
If interested, please purchase at: Give the Gift of a Senior Student Membership 2022-2023
Once purchased, someone will need to make arrangements with our VP Membership for pick-up of the "Class of 2023" senior yard sign.
To schedule a pick-up, please contact our VP Membership at membership@wolfdenptsa.org.
---
---
---
NTX Teachers on the Rise Nominations
North Texas Teachers on the Rise is a non-profit organization affiliated with Market Street and Mrs Baird's that helps celebrate great teachers through community nominations. If you know of teacher(s) that are super awesome, please use the nominating form below. Awards are given monthly! Nomination form: https://woobox.com/w3ebgh/
---
10th Annual Plano Mayor's Summer Internship Program
Plano ISD sophomores and juniors may now apply for the competitive Plano Mayor's Summer Internship Program. Presented by Capital One, the eight-week "learn-and-earn" program, which runs from June 12–Aug. 4, provides teens with paid internships at some of the area's most sought-after organizations, from national headquarters and government entities to small businesses, local charities and nonprofits. The deadline to apply is March 6. Students earn a minimum of $12 per hour working 20-40 hours per week.
Only the first 400 applications will be considered, so students are encouraged to apply early.
Please share this information with all Sophomores and Juniors to ensure they have ample time to submit their application.
For questions or to apply, please visit planomayorsinterns.org.
---
The Dave Ramsey Online Program
Our Wolf Den PTSA was able to secure a sponsor for The Dave Ramsey – Foundations in Personal Finance for all our students! We send a huge thank you to the Army National Guard!
All Junior and Senior students can create an account and do the lessons online and at their own pace.
To create an account-
Books (English & Spanish versions) can be purchased for $10 if students would like to have a physical book. Please email Donna Bauer at Schooltolife@wolfdenptsa.org and the books will be ordered at the same time. Spanish subtitles are also available on the videos.
This FREE online program will be available from December 12, 2022 – September 1, 2023.
You will need to download and/or print any info you'd like to keep for future reference. It's not guaranteed that we'll get this donation again next year.
---
---
Attention, Volunteers!
All volunteers must submit a Plano ISD Volunteer Application each year through the Plano ISD volunteer registration system. Be sure to select "Plano West" as your school of choice.
---

Schoolinks is a platform that helps students explore college and career readiness. At Plano West Senior High School, it's an important tool for the college admission process. All students have access to it through an app linked to their Webdesk. With Schoolinks, students can request transcripts, teacher recommendation letters, and keep track of other important parts of the college admission process. This program has replaced Naviance. For resources to help you navigate the program, click on the link below: https://www.pisd.edu/Page/15480
---

---
---
Copy Volunteers Needed
COPY VOLUNTEERS are needed to make copies for teachers and staff in the front office. This is a great way to get to know the school and help out in a tangible way. If you are available to give an hour or so to help in the copy room, please email copy@wolfdenptsa.org or sign up HERE. Days and times are flexible!
Please note that you must first complete the volunteer application and background check at plano.voly.org before you are able to sign up for a slot. THANK YOU FOR YOUR HELP!
---
Graduation 2023
2023 Academy HS Graduation
Date: Thursday, June 1, 2023
Location: Eisemann Center, Hill Performance Hall
2351 Performance Drive
Richardson, TX 75082
Time: 2:00 PM
Tickets & Admission:
Seating will be general admission. All guests over the age of two years old will be required to have a ticket for entry. Each Academy High School graduate will receive 10 tickets for guests.
2023 Senior High Graduations
Date: Saturday, June 3, 2023
Location:
Ford Center at The Star in Frisco
9 Cowboys Way
Frisco, TX 75034
Times:
9:30 AM: Plano West Senior High School
2:30 PM: Plano East Senior High School
7:30 PM: Plano Senior High School
Tickets & Admission:
Seating will be general admission. All guests over the age of two years old will be required to have a ticket for entry. Each graduate will receive 8 tickets for guests.
---
.
Congratulations!
The Plano West PTSA is happy to congratulate the Plano West Reflections contest winners. National PTA's Reflections program provides opportunities for recognition and access to the arts which boost student confidence and success in the arts and in life. This year's contest theme was "Show Your Voice"
Literature:
Award of Excellence – Rishabh Narayan "The Road of Life"
Music Composition:
Award of Excellence – Charli Matinfar "Understanding"
Visual Arts:
Award of Excellence – Allison Zhang "Thoughts and Prayers"
Award of Excellence - Eesha Gundam "This is Me"
Honorable Mention – Isabella Ran "Jai Guru Deva"
Award of Excellence entries advanced to Council level judging currently in progress. The results should be out soon. Congratulations and Good Luck!
Contact Us
Plano West Senior High
5601 West Parker Road
Plano, TX 75093
(469) 752-9600
---------------------------------------
Laura White, President
president@wolfdenptsa.org
Contact PTSA Board
Upcoming Events
Wednesday, April 5
Thursday, April 6
Friday, April 7
Monday, April 10
Saturday, April 15
Sunday, April 16
Monday, April 24
Tuesday, April 25
Wednesday, April 26
Thursday, April 27
Friday, April 28
Wednesday, May 3
Thursday, May 4
Monday, May 8
Tuesday, May 9
Full PTSA Calendar
Subscribe to Calendar