Welcome, Plano West Wolves!
---
Limited Edition: Plano West 25th Anniversary Blue Nation T-Shirt
The Wolf Den PTSA is excited to continue offering Blue Nation T-shirts to our parents and families of PWSH students. Each year, the Wolf Den PTSA provides the official Blue Nation t-shirt to all 2,700+ students and 250 staff members at Plano West Sr High School free of charge in an effort to promote our "Blue Nation" community.
This year's limited edition Plano West 25th Anniversary Blue Nation T-shirt is only $10 with an active Parent PTSA membership.
Please join us in celebrating our Plano West community and helping to create a community of the Blue Nation!
---

---
AP Registration
Attention Wolfpack Students and Families!
Make sure to register for your AP exams by Friday, October 27, 2023!
Go to the Total Registration website to get started: https://user.totalregistration.net/AP/445573
IMPORTANT INFORMATION:
AP exam registration opens on Monday, September 18.
AP exam registration closes on Friday, October 27.
Standard Exam Cost: $98/exam
Free/Reduced Lunch Exam Cost: TBD
Payments will only be accepted through the Total Registration website.
There will be no refunds for year-long and first-semester AP class exams after the October 27 registration deadline.
*Second-semester AP class exam registration will be available again in January 2024.
---

---
HOMECOMING 2023

---
---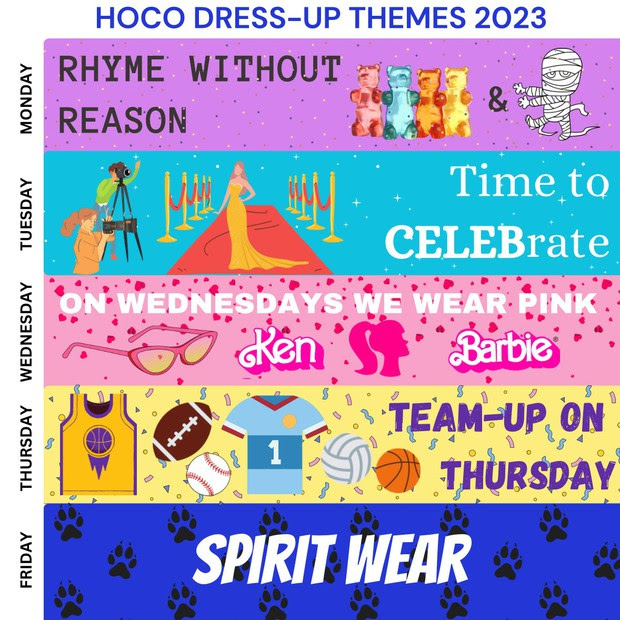 ---

Order your mums and garters!
Homecoming is September 22nd
or visit their store 221 West Parker Rd Suite 400 in Plano
---
---

The Plano West Band is excited about this year's marching show production, BLUEprints!
Our 'Blue' themed show honors our 25th anniversary and opens with "Blue Shades" by Richardson native Frank Ticheli, followed by the Elton John classic "I Guess That's Why They Call it the Blues" and the jazz standard "Blue Rondo a la Turk" by Dave Brubeck. We'll close our show with one of George Gershwin's most popular compositions, "Rhapsody in Blue." We have a busy and exciting fall season and look forward to performing our show for the Wolfpack!
Please support our Plano West Mighty Wolf Band!! We are seeking donations through our Fan-Pledge website, https://event.fan-pledge.com/317d80/, The money from this fundraiser will help us cover travel costs, clinicians across our programs, allow us to replace/repair aging equipment, and provide additional support for financial aid, all with a focus on providing the best experience for our students and families. Thank you for your donation and ongoing support of all our programs. Please help spread the word by sharing our fundraiser with your friends and family on social media. Go Mighty Wolfpack Band!
---

Buy Tickets and Check the Schedule!
Football season is here, and it's time to gear up for the action! Secure your spot in the stands by purchasing your tickets now: Buy Football Tickets.
---

Get Your PTSA Membership!
What is PTSA? Why join PTSA? The number one reason to join the Parent Teacher Student Association is to benefit your child. In doing so, you also help your school. Senior Student Memberships are REQUIRED before purchasing a Senior Reserved Parking Space.
To join our PTSA, click HERE.
2024 Yard Signs to Senior Student Members
The Plano West Wolf Den PTSA will be offering a free Plano West Class of 2024 yard sign to senior student members who join the Wolf Den PTSA this year. To receive your free yard sign, please be sure to visit our website and join the PTSA!
---
Attention, Volunteers!
All volunteers must submit a Plano ISD Volunteer Application each year. Starting July 10th, you can submit your Volunteer Application through the new Plano ISD volunteer registration system at: plano.voly.org. Be sure to select "Plano West" as your school of choice. Please click HERE to fill out the form.
---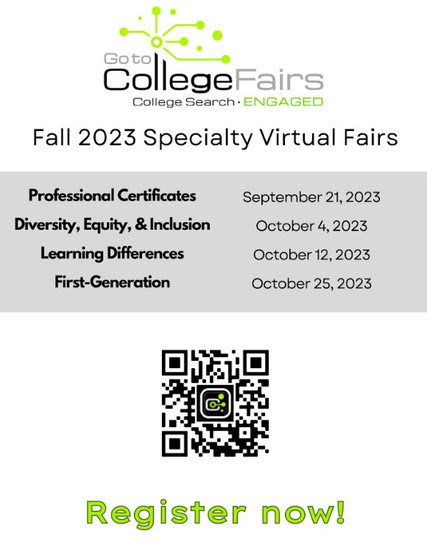 CollegeFairs - Each student is unique: help them find their individual pathway.
Specialty virtual fairs offer a convenient way to explore post-secondary options at one or all of these upcoming events:
Live fair hours are 12:00pm - 2:00pm and 6:30pm - 9:30pm (ET) each date for the following fairs:
Professional Certificates Virtual College Fair - Thursday, September 21, 2023
Diversity, Equity, & Inclusion Virtual College Fair - Wednesday, October 4, 2023
Learning Differences Virtual College Fair - Thursday, October 12, 2023

First-Generation Virtual College Fair - Wednesday, October 25, 2023
---
Congratulations to Plano West Senior High for becoming a Green School Certified!
The Green School Program, a partnership between the City of Plano and Plano ISD, teaches environmental stewardship with a focus on proper recycling. It rewards schools that promote sustainability practices among students, staff, and the community.
Congratulations to these 2022-2023 Green School Certified schools:
Boggess Elementary
Clark High School
Hedgcoxe Elementary
Mathews Elementary
McCall Elementary

Memorial Elementary
Murphy Middle School
Plano West Senior High
Renner Middle School
Rice Middle School

Saigling Elementary
Shepard Elementary
Stinson Elementary
Vines High School
Special recognition to Mathews, McCall, Murphy, Rice, and Vines for receiving cash awards for their outstanding efforts, including special recycling collections, social media campaigns, school gardens, and more. These awards will support their environmental education initiatives next year.
Schools can join the program at any time, but early enrollment is recommended to instill recycling habits from the start of the fall semester. If your student attends a Plano ISD school, encourage school administrators and environmental club advisers to enroll now.
We appreciate the students, parents, and staff for contributing to sustainable Plano ISD campuses!
---
Calling all the artists at Plano West Senior High!
2023-2024 National Reflections Contest
Reflections is a National PTA sponsored arts recognition program that encourages artistic
expression.
Theme: I Am Hopeful Because…
Six categories: Visual Arts, Photography, Literature, Film Production, Dance Choreography and Music Composition.
Deadline: Friday, Nov. 3rd, 2023 (submitting the entries at the front office at 4pm). You can also email the entry form to reflections@wolfdenptsa.org.
For more information check out https://www.txpta.org/reflections
English: 2003–2004 NATIONAL PTA REFLECTIONS PROGRAM (txpta.org)
Spanish: 2003–2004 NATIONAL PTA REFLECTIONS PROGRAM (txpta.org)
**The student or at least one person from their primary household must be a current member of Plano West Senior High PTSA member by Oct 31, 2023 To join our PTSA, click HERE.
Questions: email reflections@wolfdenptsa.org
Start dreaming up the 2025-2026 theme!
Reflections Theme Search Entry Form – Deadline to submit themes is November 5, 2023!
When suggesting a theme, judges take into consideration:
Theme is unique, inspiring and unlike past program themes.
Theme is focused without being too narrow or too broad.
Theme is clear, concise and appropriate for all grade levels.
Theme is applicable to all arts categories.
Theme promotes PTA values.
Theme is relevant in 2 years.
Past themes and duplicate entries are not considered.
The winner gets $100!
Reflections Theme Search Flier (PDF)
---
Schoolinks is a platform that helps students explore college and career readiness. At Plano West Senior High School, it's an important tool for the college admission process. All students have access to it through an app linked to their Webdesk. With Schoolinks, students can request transcripts, teacher recommendation letters, and keep track of other important parts of the college admission process. This program has replaced Naviance. For resources to help you navigate the program, click on the link below: https://www.pisd.edu/Page/15480
---
Trash the Pack
School starts in two weeks, but many students are coming on campus for activities now . . . which means PTSA and Booster Club parents will also begin their volunteer duties. Be waste aware at West! Do your part to serve as role models and to be considerate to our hard-working custodians by managing trash and recycling correctly.
Do recycle:
EMPTY and clean #1, #2, #5 plastic (caps on bottles)
EMPTY aluminuDon'tm cans
EMPTY glass bottles & jars (no lids)
Clean paper larger than a large index card
Flattened cardboard boxes
And only place your recyclables in blue recycling bins with clear or no liners when at school.
Don't recycle:
Aluminum foil products
Black plastic
Disposable service ware: plates, plastic utensils & straws, coffee cups, napkins
Styrofoam
Cartons / juice boxes
Empty and dry plastic film – plastic bags, overwrap on cases of beverages, bread bags, resealable bags, bubble wrap, etc. – can be recycled at school! Look for the Trex collection box in the cafeteria near Lost & Found.
Custodians are NOT allowed to dig through trash and recycling so it is up to everyone on campus to do their part to recycle right! Questions? environmental@WolfDenPTSA.org
---
Kroger Community Rewards Program

Plano West Wolf Den PTSA either by name or SW055
---
Recycling shoes and clothing never made more cents!

Donate your gently used shoes, clothing, purses, belts, wallets, hats, caps, backpacks, hard toys, stuffed animals, pots, and pans. Our bin is located in the southwest corner of the student parking lot on West Parker Rd. Donations must fit IN the bin - do not leave items next to the bin. Thank you for your support!
---
Contact Us
Plano West Senior High
5601 West Parker Road
Plano, TX 75093
(469) 752-9600
---------------------------------------
Laura Williams, President
president@wolfdenptsa.org
Contact PTSA Board